Workshops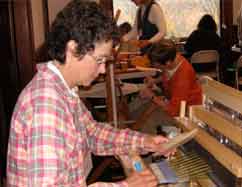 Afternoon workshops are provided to Vermont Weavers Guild members to enhance the understanding of weaving and related topics. Multi-day workshops give members the opportunity to spend extended time developing a more in-depth knowledge of a particular weaving structure. Please register early for any workshop. If we do not have enough registrations in advance, a workshop may be cancelled.
Policy for afternoon workshops
You must be a member of the Vermont Weavers Guild in order to register for an afternoon workshop.
Please sign up at least one month before the workshop. Afternoon workshop registration fee is $25.00 per session. Materials fees are in addition to the workshop fee and are to be paid directly to the instructor.
Registrations on the day of the workshop will be accepted at the discretion of the committee and the instructor. There will be an additional $5.00 fee for registrations on that day. A workshop may be cancelled if not enough participants are signed up one month in advance. If you find you cannot attend, please email the Program Committee to cancel. If your place can be filled from a waiting list, you will receive a refund.
If the workshop is cancelled due to weather or presenter illness, it will be posted on the website and the registration fee will be refunded at the next meeting.
Policy for Multi-day workshops
The fees for multi-day workshops will be posted in the description.
If we do not have the minimum participants signed up from our guild, the program committee may open registration to other guilds. If the workshop is cancelled due to insufficient registrations, weather or presenter illness, it will be posted on the website and money will be refunded at the next meeting.
Please complete the Registration Form to avoid any confusion about your workshop choices. The form includes contact information so that you can be contacted with any changes to the workshop requirements. Please mail the registration form and your check to the address on the form. Questions about programs and workshops can be sent to the Program Committee Chair.
---
November 10, 2018
Deborah Kaplan—Unusual Materials:
From the Almost Familiar to the Odd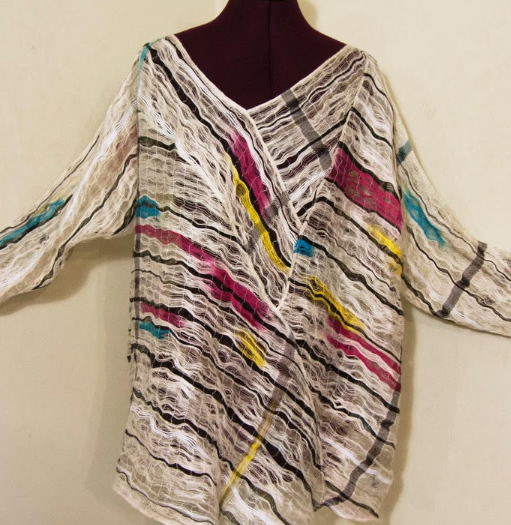 Unusual materials are both ancient and modern. Some will seem similar to yarns you have used before, others will be quite different. Horsehair, paper, straw, stems, unusual silks and plant and animal fiber yarns, and overtwisted yarns have been used for centuries. Elastics, plastics and stainless steel, copper, brass and synthetic metallic yarns are all newer. We'll look at them all. Why use some of the more unusual materials available? How do you go about evaluating them? We will look at the properties of some more common and not so common materials and compare and contrast. There will be an opportunity to try out use of some of these materials.
Instructor bio: Debbie Kaplan branched into weaving 20 years ago from a background in handspinning and knitting. Her knowledge of materials informs her work. For a number of years she has been working with collapse weave and unusual materials such as copper, steel, undegummed silk, and horsehair to obtain open, gauzy, surprising effects. She has also used more standard materials in novel ways. Thinking outside the box is a passion. Debbie's work has been featured in SpinOff, Handwoven and the CW Journal. She has won awards at NEWS and Complex Weavers and been part of Convergence displays.
February 9, 2019
Susan Rockwell—8-Shaft Double Weave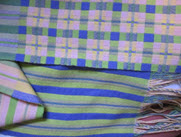 This class will explore the aspects of double weave that can be created on more than four shafts. More shafts mean more possible combinations of double weave and other structures and a greater use of color. We will also cover drafting for multiple shaft double weaving. Students should be familiar with the basics of double weave, however it isn't necessary to have taken the first session in Sept. 2017.
Instructor Bio: Susan Rockwell is active in the Vermont Weavers Guild and Past President of the New England Weavers Seminar (a conference for all NE Guilds). Susan has been teaching weaving classes since 1987 at weaving guilds, regional weaving conferences and craft schools. She has exhibited and won awards for her weaving at local, regional and international exhibits. Susan has juried numerous weaving shows and organized and completed a 250 hour course for weaving instructors.
March 9, 2019
Janney Simpson—Finishing Techniques
This workshop will provide an overview (slide show and samples) of finishing and embellishment for handwovens followed by Janney's favorite techniques and hands-on practice with some of those techniques.
Instructor Bio: Janney Simpson began weaving in the early 1980's. She teaches weaving at Wesleyan Potters in Middletown, CT and at The Barn in Gaylord, MI and relishes the "ah-ha" moment when new weavers throw a shuttle for the first time.

Janney is a past President, Apprentice, and Weaver of Distinction of the Handweavers' Guild of CT. Also a member of Complex Weavers and Japanese Textile Study Group, she enjoys sharing her interest in Sakiori weaving using vintage silk kimono. She has presented many workshops and lectures on Finishing and Embellishing Handwovens, Knitted Beaded Bags, Sakiori, Deflected Double Weave, and Weaving with Fibers of Micronesia. Privileged to be a student for four years in Laurie Autio's class, Explorations in Advanced Weaving, Janney strives to create one-of-a-kind pieces using a variety of fibers and weave structures on many types of looms.
April 13, 2019
Beth Cederberg Guertin—Mélange Warps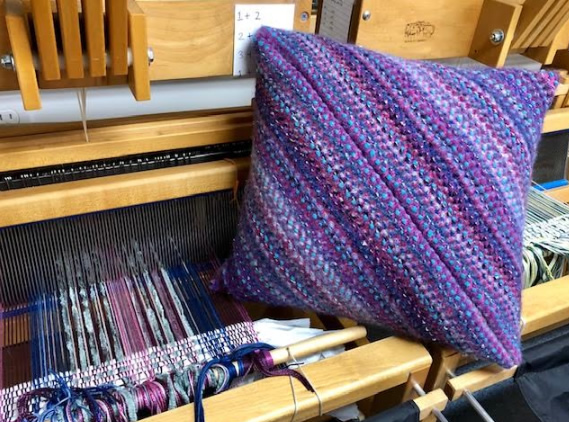 We all have partial cones of yarn, left over from previous projects, taking up valuable space in our yarn closets. Bring those yarns and let's plan a project to use up the yarns (goal is that you use them up without buying any more yarn to weave the project). We'll weigh the yarn, determine how many yards there are available, and then discuss options through stripes, plaids, 4 and 8 shaft drafts, combining textures, colors, and yarns. Samples will be shown. Students will leave with a project designed, ready to go home to wind the warp.
Participants will need to bring:
colored pencils
paper for designing (plain or graph) and/or laptop with weaving software
calculator
an inventory of yarns (on index cards or paper) you own that are not specified for a project. Attach a sample of yarn; list color(s) (if known); fiber content (if known).
partial cones/skeins, yarn leftover on bobbins, yarns you want to use up
If you bring in a detailed inventory then you don't need to bring the actual yarns. We need to know how many yards per pound and how much of that yarn you have., as well as the fiber content to determine sett.
If you own a McMorran Yarn Balance, please bring it to the workshop.
Instructor Bio: Beth Cederberg Guertin has been a weaver for over thirty-five years, and has a strong local and regional reputation for her knowledge and support of weaving and the fiber arts. She has been teaching both rigid heddle and multi-shaft weaving to children and adults first through her store in Arlington, MA (The Batik and Weaving Supplier), and now through her studio in Waltham, MA (A Place to Weave aka A Yarn Express. She enjoys designing projects to use up small amounts of yarns.
A Look Ahead to the 2019-2020 Workshop Schedule
September 14, 2019
Norma Smayda—Krokbragd
This typical Norwegian bound weave is used for rugs and wall hangings. Although it is a simple weave structure, usually on three shafts, it looks complicated because of the use of color and varied motifs to produce the traditional Scandinavian designs.
Warping directions, a list of cotton or linen warp yarn, wool weft yarns in several colors, and other supplies required will be sent two months in advance. This is a three shaft weave; four shaft table and floor looms are used. [This is not a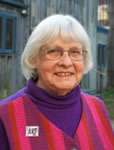 round robin workshop – you stay on your own loom].
There will be a brief discussion of this weave, with examples shown, and weaving following treadling and color directions. You will bring your finished samplers to a guild meeting for a wonderful show and tell.
Instructor Bio: Norma Smayda, a weaver, teacher, exhibitor and juror, learned to weave in Norway and occasionally returned to teach. In 1974 she established and continues to run the Saunderstown Weaving School. She has an MFA in Visual Design from UMass-Dartmouth, and has received the HGA Award of Excellence, the NEWS Weaver of Distinction, and the WGB Distinguished Achievement Award. In 2017 WGRI established the Norma Smayda Guild Leadership Award. Norma has written articles for various weaving journals and has had work featured in several books. Norma's special interests include Scandinavian weaving, the works of William Henry Harrison Rose and Bertha Gray Hayes, and ondulé weaving with the fan reed. She coauthored Weaving Designs by Bertha Gray Hayes in 2009, and published Ondulé Textiles in 2017. She especially likes weaving functional pieces and reducing complicated designs to as few shafts as possible.
October 12–14, 2019
Multi-Day Workshop—Cameron Taylor-Brown—Color in Cloth: The Weaves You Want and Why
Weave structures mix color in very different ways. How do we determine what weaves are "right" for what we have in mind? View images from inspirational textile collections of the Los Angeles County Museum of Art, the Textile Museum in Washington, D.C., and the Cooper-Hewitt in New York, supplemented by images and woven samples from Cameron's own collection. Explore a wide range of weaving across different cultures and time periods, and examine how weave choices can dramatically affect our perception of color in cloth. Review and graph out examples of supplemental thread weaves and multilayer weaves and their characteristics, referring back to the images and samples. Make your own color and weave samples that use a variety of weave structures for specific visual effects, including iridescence. The primary goal of Color in Cloth is for you to gain the knowledge needed to use weave as an effective tool for color mixing. A secondary goal is to train your eyes to better "see" and use the basic elements of warp and weft color – hue, value and intensity - and to "see" how color and weave interact. Upon completion of the workshop, you will know how to look at a fabric to identify the weave family and know how that family is likely to mix color, anticipate how a particular weave is likely to mix color, and how to select a weave to mix warp and weft colors for specific visual effects. Workshop fee: $200.
Instructor Bio: Cameron Taylor-Brown has immersed herself in fibers since the 1970s. She was introduced to textiles by artist Ed Rossbach at UC Berkeley, studied design at the Philadelphia College of Textiles and Science (PCT&S) and worked as a fabric stylist in New York. She later taught textile design and worked as an exhibition curator at PCT&S. Since 1985, Taylor-Brown has lived in Los Angeles, where she recently founded ARTSgarage, a textile resource center. Her work is widely exhibited and is featured in publications including American Craft Magazine, Fiber Art Now, Handwoven and Shuttle, Spindle and Dyepot. She teaches fiber workshops at schools, guilds, museums and conferences throughout the United States and Canada.
November 9, 2019
Susanne Smith—Lace Weaves
Details coming soon!
---
Directions to Kimball House

From I-89 take exit 4 onto Rte-66, head down hill to Randolph. At the stop sign, keep going straight (south on rte 12). Bear left (west) onto Rte-12 (N. Main St.), Go past Chandler Arts Center. Before the gazebo, bear left onto South Pleasant Street. Take the next road on the left, which is Randolph Ave. Kimball House is at the end of the street, sitting at the top of the hill. The drive to the right leads to a parking area. See map.